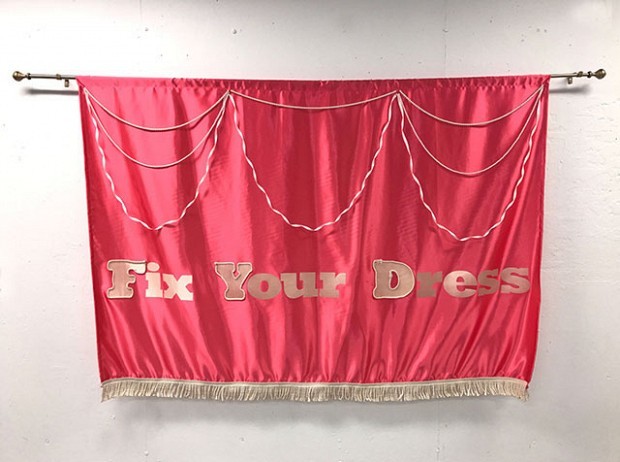 Andrew Gallardo (Fall 2016 and Spring 2017)

"Fix Your Dress (Parade Banner)"
Satin embellished with pearls, ribbon, buillon fringe, and rope
2016
While being active on gay dating apps, such as Grindr and Scruff, I've found that the gay community is broken down into smaller communities based on how people identify themselves. I am interested in the way gay men present their identities to other gay men. To me, this presentation mimics the way advertising works; gay men will briefly describe themselves and directly state what they are looking for. They basically are selling themselves through their profiles to find a date, a sexual partner, etc. Through the experience, I find that self-identification, the commercialization of sexuality, digital interfaces, and craft have intersections that can be explored. My work focuses on the advertising of one's identity; I search for ways to incorporate the phrases used to identify one's self and make them into logos (in the form of printed stickers) or signs (weavings and digital animations) that attract the "consumer."
The creation of the "advertisements" also leads to the formation of my critiques of these advertisement methods since some profiles are explicitly racist, misogynistic, transphobic, or even homophobic. My work functions as a critique of the phrases and profiles that people use that have these sentiments. I have also been working on a series of banners and flags that have the same function of critiquing these sentiments, but are then juxtaposed by the color, text, and embellishment.
Parallel to my exploration of online identities and digital cruising, I have been creating a series of crocheted fetish gear. I am making comparisons between gear and a pervasive fetishization of craft processes in popular culture. The indulgent pleasure I experience making the gear mimics the function of the objects themselves.