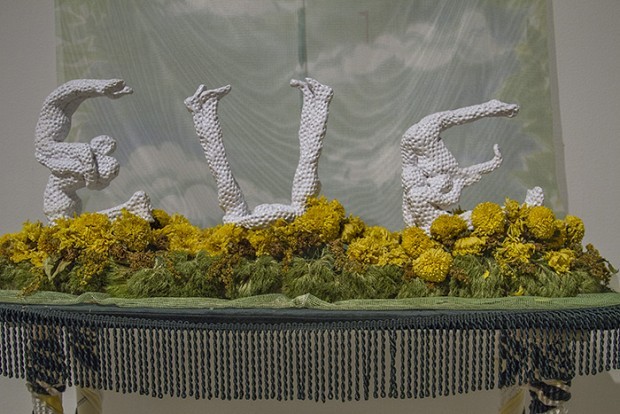 Eve Camille Clark (Spring 2017)

"signature classic"
ceramic, printed mesh, polo shirts, plaster, mums, trick
2017
I try to play both the role of the trickster and the fool, to come to a place of understanding through relatable failure, and precarious stimulation.
Objects, installations, garments etc. fall into the realm of the uncanny, bridging insecurity and elated fantasy. Hand-made tactility along with a seemingly ambivalent attitude, produce spaces that perform metaphors through material and spacial relationships, coyly questioning hierarchies of "things."
Various contexts are intimately and intently combined through tropes of decor, thematic courses, and body engagement in an attempt to reveal the "janus face" of material. Twisted desire and satisfaction are negotiated through a painterly use of color and gesture, playing between humorous referential exchange, and deeply troubling weirdness.
Complete in their various states of incompleteness, arrangements of objects, and manipulated materials fill borders and corners, and skew vision.
Final and sane within a world of metaphorical loops.
Precarious and "one-night-only" in spirit.