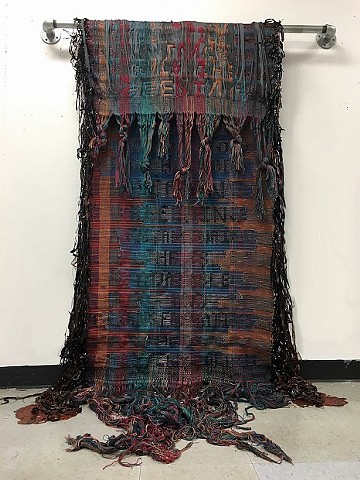 Aubrey Pittman-Heglund (Fall 2017)
Bleeding oil
Triple cloth, woven cotton and trash bags, acrylic paint
2016
My practice revolves around analyzing and critically thinking about climate change and how, through anthropogenic causes like extreme materialism, humanity will cause its own extinction.
My work has a material foundation of recyclable products, which happened once I began forcing myself to find alternatives to throwing things away. Since the Trump election I have worked hard to reduce and eliminate my contribution to unethical late capitalism piece by piece, by finding alternative ways to buy, trade, and reuse goods and services. I have started to think about and use recycled plastic in many cases as a replacement for fabric or yarn, embracing an imagined dystopic end of the world scenario in my head, where factory production of goods has stopped and humanity has to rely on garbage, skills and creativity to continue to live on earth.
My woven objects, made from a triad of plastic garbage bags, mill ends, and shredded clothes are meant to act as artifacts and evidence of a human caused climate crisis. Every woven object begins with a collage of research based around capitalisms ties to the human induced climate crisis. Moments of environmental terror in the fast fashion market and the oil and gas industry become direct context and inspiration to the work as I pull my color and information from the research collages. My practice is supported by the idea that every action can have a wide spread effect, even if the effect is indirect and hard to see.