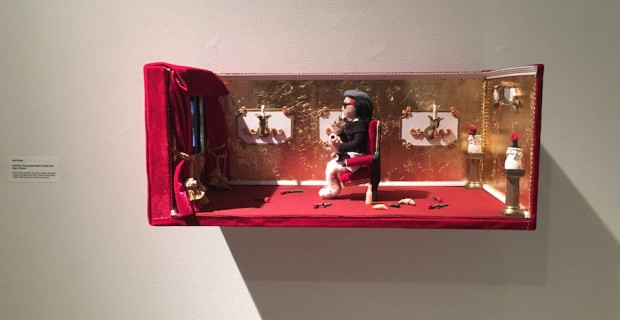 Joey Scher (Fall 2017)
"American Francophile Really Thinks She Has a Chance"
French cleat, gold leaf, red velvet, sculpey, Swarovski crystals, dry-felted Joey, iPad, American Francophile Really Thinks She Has a Chance (the movie)
2017
Los(t) Angeleno, biracial woman, videomaker, academic, puppeteer, cinephile, comedian, teacher's pet, product of pharma capitalism.
My work is a conglomeration of loose thoughts, jokes, auto-ethnography, and post-colonial theories about identity that take shape as props for YouTube videos and YouTube videos. I use the comedy/tragedy trope to dissect and critique the academic institution and the Eurocentric, phallocentric histories of art making.
My softcore viral videos allow me to masquerade personal plight with humor by befriending myself, reclaiming historical allegories, embracing biracialness after growing up "white," and paying big bucks to have a good night's sleep.
With my camcorder from Costco, a freshly steamed muslin green screen, my girlfriend Maya®, off-brand polymer clay, craft felt wrapped in plastic, wind chime sparkle sounds, PDF files (digital or printed), an email thread with my professor, a stand up script, blood, sweat, and tears I produce brain candy that will make you laugh, cry, and think.