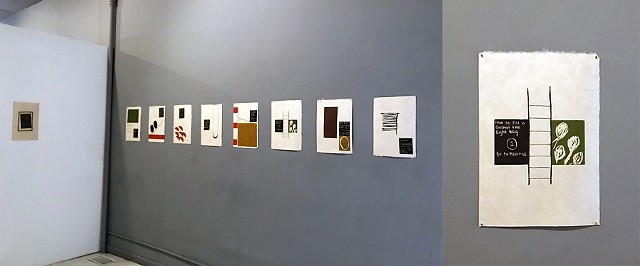 Asiya Toorawa (Fall 2017)
"Watermelon Juice"
8 woodblock, lino-cut, and drawing on kitakata paper
2017
I make work about my family, my Muslim-American identity, and the grieving process. I accomplish this by using personal fabrics – such as my grandmother's sarees and my mom's old hijabs – in combination with heavy embroidery, beadwork, and text. These works take many forms, including protest banners, prints, and food.
My work creates a space for people to talk about difficult topics such as grieving, belief systems, and memory. I allow viewers to approach these topics by activating the senses, using visual beauty, humor, or flavor as an enticing entryway. For example, a protest banner with heavy beadwork and hand-stitched appliqué is visually pleasing, but also dispels Western myths about Islam in its message. I make and present my grandmother's burfi; whereby preparing the Indian sweet serves as a grieving process for me, it functions as a treat for others.
My work is as much about my healing through performative action as it is about having a lasting object that represents that process.