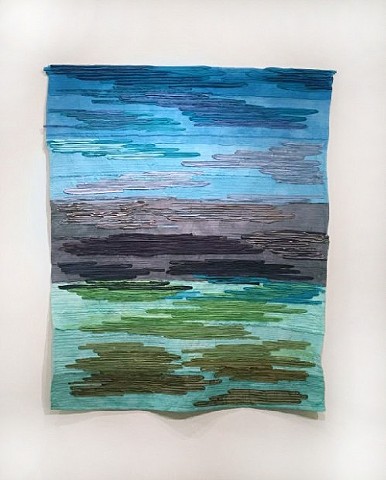 Megan Herring (Fall 2016)
"Blue Ridge Conglomeration"
Mixed media: hand dyed fabric, found cloth, thread, beads
2016
The abstraction, simplification, and distortion of line to create both real and imaginary spaces fuel my practice. Particularly, the landscapes, which shaped my ancestors, their histories, and my own heritage.
Documentation of personal visits to ancestrally relevant landscapes influence multiple translations of an image. These translations move through the processes of photograph, watercolor, weaving, and sewing; sometimes more than once or twice. Through translation of these images and spaces, I utilize the line to create these images repeatedly. With each translation, I lose recognizable details of the location itself and instead turn them into a new space of my own. The landscape has changed since it was directly related to my heritage, however by visiting these aforementioned spaces and translating or manipulating them myself, it is an act of reclaiming the site as something that is connected more strongly to myself in the present, and is more of a personal reclaiming of space.
Color and texture are a large part of my practice; with a multitude of blues, greens, and greys that weave themselves in and around each other to create a luxurious, sometimes topographical, texture within the work. Weaving, painting, sewing, and dyeing are all integrated into my work. I embed age, wear, and exertion through materials such as reclaimed yarn and thrifted fabrics from my community to entrench them into a foregone region from the past.