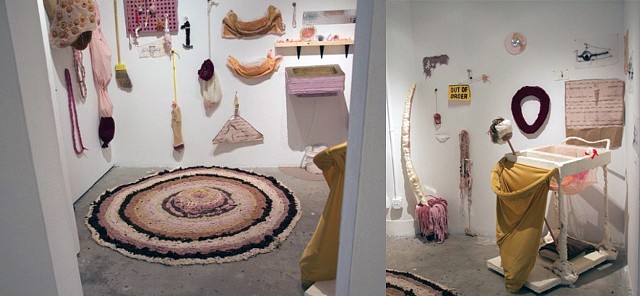 Sydney Hochsprung (Spring and Fall 2016)
"Productive Bodies (Closet)"
Previously owned towel, foam insulation, toilet paper, house paint, glitter, found wheels, found fabric, thrift store garments, plastic tubing, foil, medical tape, hair, hand blown glass, beeswax, found objects, streamers, towel, sponges, toothbrushes, ha
2016
My work is gross. My environments investigate the valuation of human productivity, from exertion to excretion. I utilize actions and materials of bodily realities, which I define as inherent truths and structures that inform the experience of body ownership. This includes cleanliness, beauty standards, physical futility, and pointed distributions of labor, wealth, and worth. I also pick and scratch at societal views of bodies articulated through social spaces of body maintenance and products of bodily routine. I also navigate the concept of repulsion in my work. I fixate on the erotics of disgust, a sensory space between nauseating and sensual, occupied by the likes of excretion and mess. Wielding materials such as previously owned towels, hair, bandage, wax, and mass-produced garments, I infest spaces with labor.