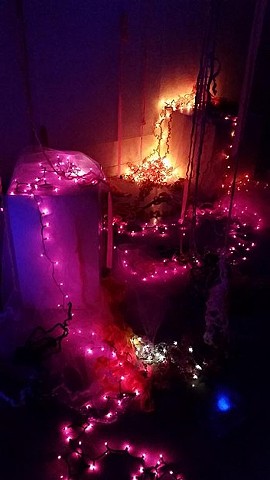 Justin Nagel (Spring and Fall 2016)
"warm glowing light, in a sea of cold darkness; cta train heat lamps"
2019
It is an ascetic labor practice however, and deals with the literal queering of an occupiable space, be it the gallery, the woods, or someone's living room. I crochet with abhorrent materials in acrid colors to draw the viewer in to make a queer presence known. The interplay between various colors of various styles of lights and my crocheted lines of plastic and fabric with a bit of glitter mixed in create an interstitial moment. By manifesting an in-between I attempt understanding of the utopian potential of queer spaces, very much inspired by Jose Munoz and his notions of queer potentiality. The work performs this as a means of moving beyond our current station in the present allowing for something else, knowing that that something else cannot be known, yet I still try.