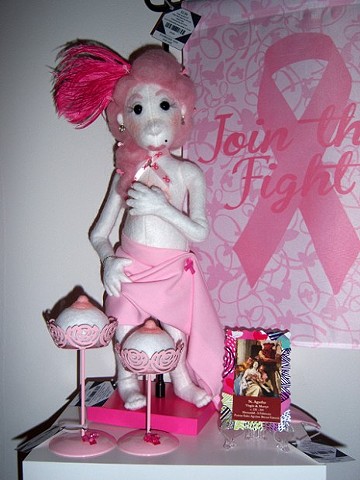 Sarah Rieser (Spring 2016)
"Saint Agatha"
Needle-Sculpted Felt Figure with Purchased Object Assemblage
2016
From my unique perspective living as a part time adult and a full time student, commuting between two worlds each with their own imagined narratives, my current practice is a thematic exploration of consumption-related suburban dystopia. I am investigating the duality of my experience in relationship to the conventionally accepted hierarchy of art and craft, which positions women's work as the lowbrow province of hobby. My pieces convey elements of humor and irony by using traditional, intensive hand-labor processes to reinterpret mass-produced materials with the notion of reassigning value to disposable consumer goods. These elements are culled from the stored contents of my parent's basement and reconceived with the addition of collected paraphernalia and items purchased from the craft stores, dollar outlets, and thrift shops ubiquitous throughout the suburbs. Yarn, felt, and fabrics provide the basis of these artworks, ornamented with a mishmash of repurposed components such as scrapbooking detritus, party favors, and novelty refuse. Through the use of these materials, I create mixed media art that engages the wastage of planned obsolescence so prevalent in suburban culture, while introducing questions of taste, of feminine labor, and of prescriptive reliance on the nondurable. Building upon a foundation of craft taken from my upbringing, interior design background, and fine art training, I intend my work to reframe a contemporary idea of the inferior homemade as the elevated handmade.