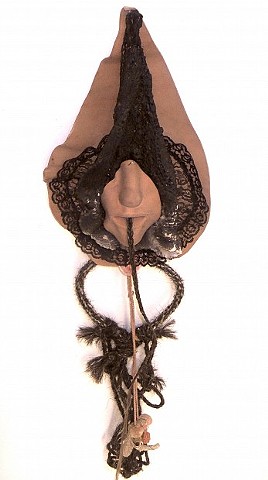 Èctor Maria Gracias (Fall 2012, Spring and Fall 2013)
" Violencia Pornografika"
Leather, industrial lace, hand crochet doily with sugar crystals and spray paint, latex cpr mask, hand crochet, rattlesnake rattle, sage, rosemary, goat horn, handmade horsehair rope, vintage gay porn Dimensions: Variable
2017
Declaración de Artista


Yo trabajo a través de fronteras, geográficas, materiales y psicológicas.
Mis relaciones familiares moldean y definen el contenido y el significado de mi trabajo. Mi padre, un militante macho mexicano me enseñó a desconfiar de la autoridad. Mi madre , por otro lado fue cariñosa , una mexicana católica tradicional, trabajadora agrícola en los EE.UU. , me enseñó el trabajo duro , la compasión , el
respeto y el amor.
Creciendo en este ambiente entre los EE.UU. y México , entre lo legal e ilegal ha sido una experiencia complicada . Me siento inspirado para reconciliar estas contradicciones en mi trabajo.
Mi cuerpo es un reflejo de mi geografía. Dirijo un sentido de desplazamiento de no sentirse cómodo en los EE.UU. o en México , mi sexo o mi cuerpo, en la escuela o en la calle. Hago el trabajo que expresa sentimientos de no pertenencia y de no querer pertenecer , conciliar la tensión entre la falta de vivienda y el deseo de localizar el hogar dentro de mí mismo.
Mi obra deconstruye mi propia narrativa y el lenguaje que he aprendido con el fin de encontrar nuevas posibilidades. Me veo obligado a hacer obras de arte con el fin de permanecer cuerdo y con el fin de sobrevivir. Mi trabajo abarca y refuta las contradicciones de mi identidad sexual y cultural. El significado de la obra puede ser difícil de alcanzar o aparente y normalmente se ocupa de la fugacidad entre los paisajes , el lenguaje, los materiales y las comunidades. Mi trabajo explora las dicotomías inherentes en ser un artista queer chican@ a través de diversos materiales y procesos.
Procesos que empleo incluyen fibras , la escultura , la pintura , las intervenciones , instalaciones , video, y cerámica. Materiales que utilizo a menudo incluyen la crin, cuero , cuerda, fibras , arcilla, pintura en aerosol y crochet. Produzco a través de una multiplicidad de medios y procesos , que , como yo, son fluidas , flexibles, y nunca fijos.
* ektor maria gracias
I work across borders, geographical, material, and psychological.
My family relationships shape and define the content and meaning in my work. My father, a macho Mexican militant taught me to mistrust authority. My mother on the other hand was nurturing, a traditional Mexican Catholic, farmworker in the U.S., taught me hard work, compassion, respect and love.
Growing up in this environment between the U.S. and Mexico, between legal and Illegal has been a complicated experience. I am inspired to reconcile these contradictions in my work.
My body is a reflection of my geography. I address a sense of displacement of not feeling comfortable in the U.S. or Mexico, my gender or my body, at school or on the streets. I make work expressing feelings of non-belonging and not wanting to belong, reconciling the tension between homelessness and desire to locate home within myself.
My work deconstructs my own narrative and the language that I have learned in order to find new possibilities. I am obliged to make artwork in order to remain sane and in order to survive. My work embraces and refutes the contradictions of my sexual and cultural identity. The meaning of the work can be elusive or apparent and usually deals with the transience between landscapes, language, materials and communities. My work explores the dichotomies inherent in being a queer Chican@ artist through various materials and processes.
Processes I employ range from fibers, sculpture, painting, interventions, installations, video, and ceramics. Materials I often utilize include horsehair, leather, rope, fibers, clay, spray paint and crochet. I produce across a multiplicity of media and processes, which, like myself are fluid, flexible, and never fixed.