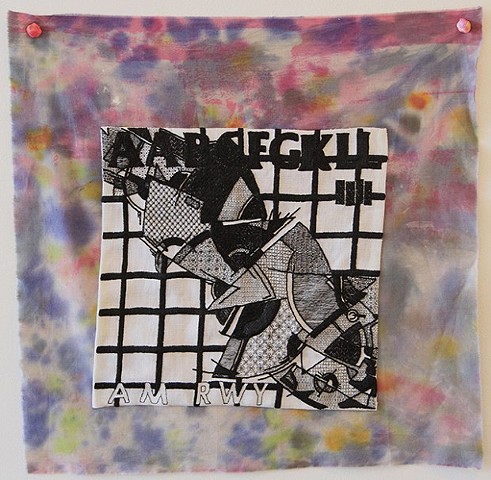 Anneli Henriksson (Fall 2013)
"Is This Real and My War: Black Work Embroidery Sampler feat. G. Sage and R. Pettibon"
Hand embroidered counted black work stitching on linen appliqued onto hand dyed repurposed cotton pillowcase
2013
I'm interested in the rituals and visual language of youth culture over the last several decades. Juvenile delinquency is a term that can point to the beginning of the youth cultural cliché.
For example, Black and white psychedelia emerged from a warped perception of 1960's youth culture. My images are created by an endless pattern of digital and analogue collaging. They function by exploiting the tension, depth and feeling created by collage to illustrate the real and the unreal, the limitless and the limited. My restricted color palate is a reference and an attempt to emulate black and white analogue photocopy collages.