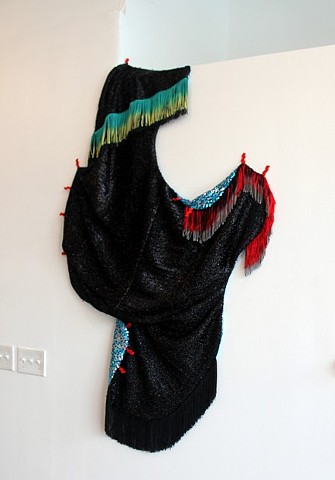 Grace Ann Watson (Fall 2013)
"Rest in Peace This Majestic Beast"
polyester fabrics, cotton thread, fringe
2013
My work is sculptural and focuses mainly on textiles, using embroidery and other sewing techniques, but also includes books and paper. Along with the line of humor, color plays a major role in my pieces typically being bright or rich and saturated in quality. My nature is that of a maker, so I love exploring processes. I tend to focus on meticulous processes, such as beading or intricate embroidery, that yield a tremendous amount of detail. Sometimes the amount of detail can get a little chaotic or outlandish but that fits the overall style of my work.
Throughout everything I work with an air of playfulness is obvious. It gives me the opportunity to approach topics that otherwise make me uncomfortable. This has made it possible for me to research and process information I otherwise would not approach. I find inspiration for my work using what I know and what I am familiar with in my everyday surroundings. I am always discovering and find influences everywhere I look. I am frequently inspired by techniques I want to explore. My current path of discovery has pushed me into the realm of science, researching bacteria and fungi that can directly affect the eyes, and the potentially harmful diseases they can imbue on a person and their vision.