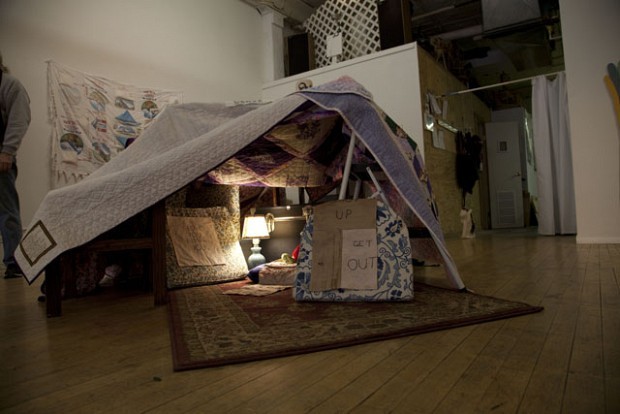 Noël Antigone Quigley (Spring 2013)
"Truce"
Three hand-made quilts from my childhood, furniture from my home, books, embroideries
2013
Nostalgia is nothing without the interplay of the present with memories of the past. In everyday life there are many opportunities to experience a simple moment's beauty that can at once bring the present experience and memories of the past to your attention. These moments can make you stop in your tracks; make you remember something you had not thought of since it happened years ago. Most of those opportunities are passed up or overlooked, but when they are appreciated there is a true sense of past experiences merging with the present; a sense of magic, a sense of nostalgia.
I am a process-based fibers and materials artist working to express ideas centered around the unyielding desperation of nostalgia and memory through installation. The past I draw upon is that of my own childhood in rural, mountainous Virginia as well as that of physical, over-looked spaces within the everyday. In effort to expose these desperate feelings I employ materials and processes frequently found in art therapy involving repetition of action, shape, or movement. I take advantage of lighting and shadows to create a memorialization and romaniticization of the moment within the installation, much like the way many people think of nostalgia.