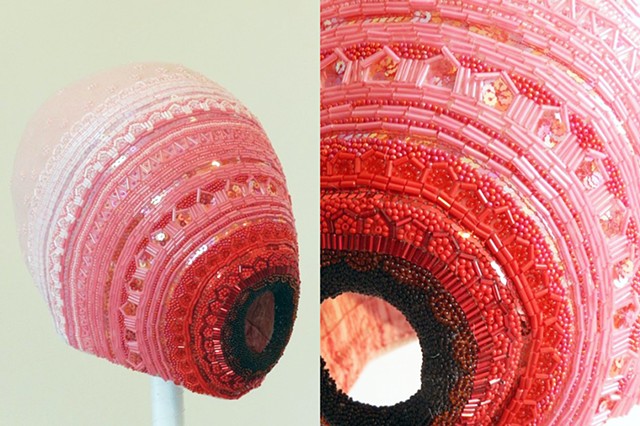 Caroline Wayne (Fall 2012
"Was it Something I Said?"
fur felt velour, millinery grosgrain, beads, sequins
2012
I overshare.
One might say I have no boundaries. No filter. No off-button. No discretion.
This lack of awareness or rather lack of shame translates into how I express my ideas artistically. I exploit my own personal experiences in order to examine the fragile, volatile and awkward dynamics between men and women. Some recurring themes include uncomfortable sexual encounters, my misread attempts at asserting power, and how modern technology has altered the way relationships are formed.
I connect this personal information to the way I create. I have an obsessive, circular and sometimes far from stable brain, which are all primary factors in the way these romantic encounters materialize and ultimately self-destruct. These modes under which my brain operate lend themselves to the repetitive and patterned nature of craft; stitching, sewing and beading are all skills I use to relate a project back to the way I think or have thought during the story I am telling. Whether that means I am painstakingly hand-sewing a quilt piece by piece in an order that only makes sense to demonstrate that very pattern of communication that I am in the midst of over-analyzing and writing endless theory on, obsessively sewing reverse-applique circles in a quilt that examines emails while obsessively emailing, or compulsively beading in a repetitive act to describe the way my brain is currently unable to shake its circular thoughts, I am inseparably linking my personal life to my system of making.
In this last example I have created a piece to demonstrate how a sexual encounter with someone I barely knew quickly became an unhealthy obsession which led to self-exploitation and a total loss of self-control – all through the avenue of the text message. I created a mask that is beaded meticulously in concentric circles growing out from the mouth, reflecting a wound-like color scheme as if my incessant focus on my text-object has dug grooves into my face from its gross repetition, unable to stop what so innocently started as cellphone-flirting. The viewer has an opportunity to see what has become my current damaging fixation through an invite to text with me, which leads to an aggressive (or is it crass?) provocation to talk dirty. This is all meant not just to tell my own story of obsession and self-destructive thoughts, but to ask the question; at what point does female self-objectification turn from sexy to offensive, and has texting made this all too easy for us?
In my case it provides the obvious venue for this compulsive problem that seems to dissolve relationships while bringing substance to my work:
I overshare.