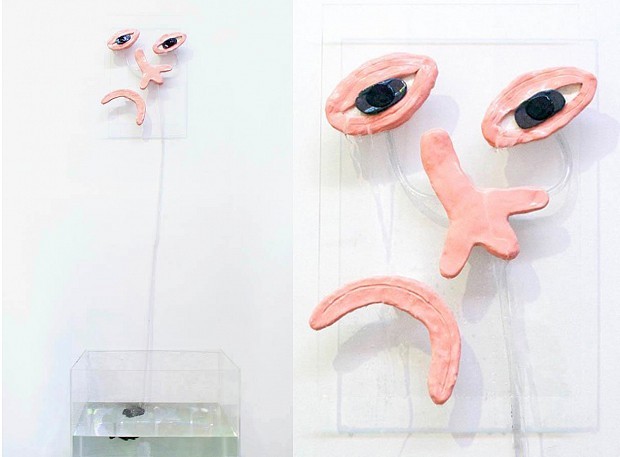 Luis Miguel Bendaña (Spring 2012)
"Sadness Lurks Beneath Each Breath"
Acrylic, Fountain Pump, Plexi, Sculpey, Shellac, Water
2012
In my work, which is often autobiographical, I seek to articulate with subtle humor and abstraction the themes of isolation and pain in order to focus on their curious and often comic importance in our lives. As a child I was greatly influenced by the works of William Shakespeare and by various Broadway musicals. My work has an underlying sense of the tension between comedy and tragedy and always references the drama of theater.
I create work in a variety of mediums. Using different materials and processes — including animation, film, video, painting, screen-printing, sculpture, machine knitting and textile dying — I seek to investigate the human condition and the pensive, contemplative nature of life using imagery that is not always obvious in its concept.
My most recent work is a collection of paintings, some of which abstract certain words and phrases like Miau (meow in Spanish) and Gordjöss (a reinterpretation of the word gorgeous). I like these words because they express the conflict inherent in sensuality and desire, reflecting on the mixed emotions that one often feels when aroused or tantalized.
To make these paintings I have been working with liquid latex, machine knit layers, dyed fabric and vinyl. I use this combination of materials to evoke the seductive and provocative qualities of flesh.