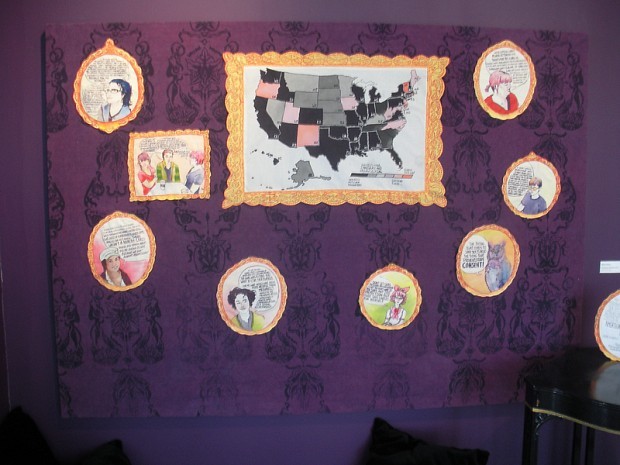 Nicole Boyett (Spring 2012)
"An American Education"
An installation of embroidered, hand printed portrait interviews, maps and informational zines with oversize velvet cushions.
2012
Currently I am conducting interviews and using national statistics to create comics and installations that question everything from the state of American sex education to how gender and race operate in the comics industry. These works inhabit large and small spaces, from the handheld zine to larger scale installation, from walled galleries to collaborative comics intensives.
I combine fiber, comics, research and social practice to question sexuality, gender, economics, and race. Why are certain stories are given voice while others are silenced? How do we create objects and spaces to combat that silence? I invite viewers to touch, connect and contribute to the work and in doing so, begin building solutions to these questions.
There may be a comic to take away and share, interviews to speak through or collaborations to participate in. I illustrate a history, a system of facts to examine and engage with. Everything I make comes out of my community and the obstacles and rifts it faces. Every piece draws simultaneously from personal experience and carefully conducted research.