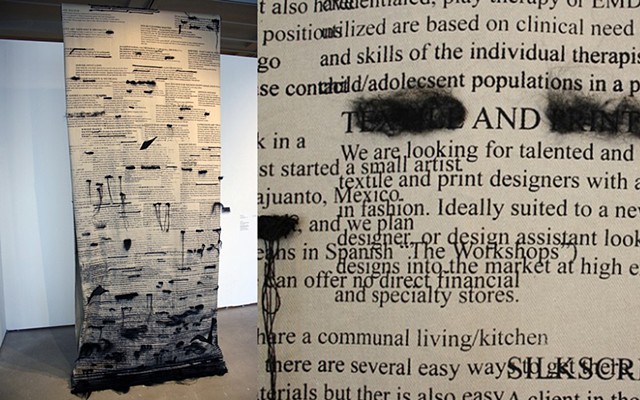 Abigail Marguerite Dreier (Spring 2012)
"On Growing Up"
Fabric, job listings, wool, string, thread, nylon, synthetic hair
2012
I am an observer of interaction. I study the reciprocal actions that occur between moments of time – those of past, present, and future – as well as between people – those of the self and the community. I am captivated by the remorseless, continuous flow of time and aim to acquaint people with its passing nature by utilizing art as a way of discussing this with one another.
I am interested in pairing natural materials that will decay (paper, wax, sand, water) with artificial materials, which promote permanence. Through using these elements while referencing the information my subjects provide, it is my intent to call attention to the fact that as time advances, changes occur. By utilizing fabric, thread, silk-screening, text, and repetition in the creation of interactive installations, static installations, and artist books, I create work that captures our relationships to one another and shows how the passing of time intermingles with the performance of change.
Some of my pieces are redesigned and reworked by the natural course of events time takes. In my other works, change is often catalyzed by an engagement – between myself and/or other contributors – with the work through anonymous polling, verbal response, or direct contact. My diverse inspirations include the theories of psychologists Winnicott and Piaget, whose research involved understanding childhood, as well as the works of artists such as Andy Goldsworthy, Candy Chang, and Gillian Wearing. Concepts in my work revolve around memoirs, tragedies, regrets, fears, and aspirations. I have begun to explore the idea that the process of art making itself can become a way of reflection, healing, and a dialogue.