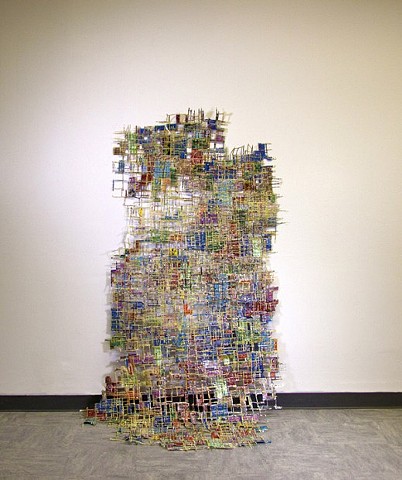 Geanna M. Hernandez (Spring 2012)
"Places"
Plastic Bags, Black Plastic Mesh, Telephone Books, Iron-On Adhesive
2011
My artwork reflects social issues of urbanization in metropolitan environments by transforming materials, collected and manipulated, into sculptural collages that evoke the massive and overwhelming affects of urban sprawl.
My process begins by collecting discarded items, which are usually assumed to be trash or waste, from my current community of Chicago. These items include telephone books, single use styrofoam plates, disposable plastic bags and weekly circulars. This act of acquiring materials from my local environment becomes a way to promote sustainability within the arts through reusing and salvaging sources that are currently accessible within a specific location. From these elements I create large scaled multiple layered surfaces and objects that are cut, torn, and fused together allowing for the transformation of both meaning and materiality through their alterations. By combining found and repurposed objects with practices such as painting, drawing and sewing, these aggregates suffice to visually express my personal struggle of class represented through means of consumption and waste accumulated within urban environments.