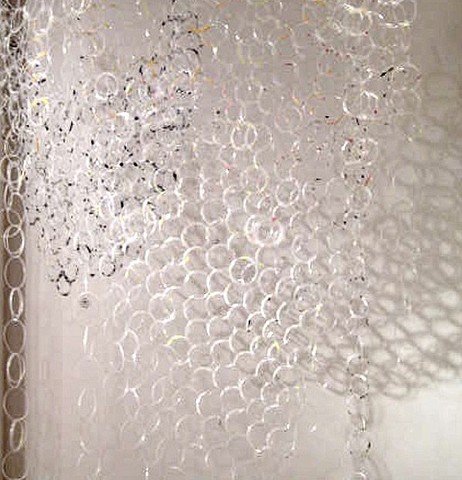 Darcy Terrel (Spring 2012)
"Plastic Armor"
Plastic Lids, Acrylic Ink, Nail Polish, Transparent Tap
2012
I create because it who I am; the physical connection I get from working with my hands is highly satisfying and gives me a sense of purpose. Working intuitively, each project is unique. Because my style and techniques are ever-changing, material becomes my basic means of inspiration. I then use reflection as a tool for understanding what I have done and how it relates to who I am, if only for that moment. Utilizing my own trash as a primary material choice, my works speak of me as a consumer in society and all the preconceived notions of identity that are attached to these objects. By exposing myself through receipts, wrappers, containers and other byproducts of my own consumption I am putting myself in a position to be judged by the public at an individual level. Incorporating text into my work allows me to influence the way in which I am perceived by inviting viewers into my own physic realm.
For as long as I can remember I have been making things from leftovers and scraps. As a child I would use old clothing and remnants from my mother's sewing supplies to make outfits and accessories for my stuffed animals using primitive forms of appliqué and embellishment. I still use these techniques along with the incorporations of screen-printing, hand dyeing, and other forms of tactile modification.