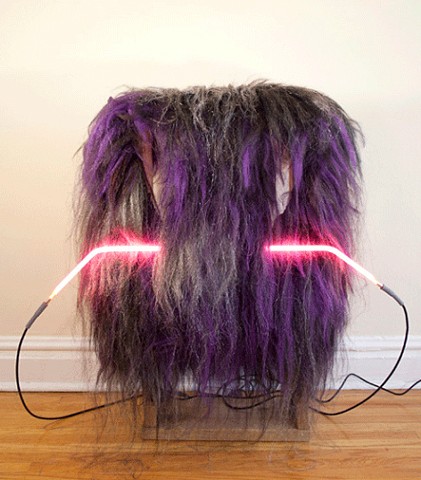 Susannah Dotson (Fall 2011)
" What Do I Get, Nobody Knows"
Kanekalon fibers, bamboo thread, wood, neon light and transformer
2011
Evoking the visceral is crucial.
My art is created in response to the radical instinct itself, be it a reaction of anxiety or sublime joy. I utilize the artistic media that best fits the essential meaning of the work. Materials are chosen for their similarity to the composition of skins or surfaces, as a study of malleability and compression. The use of neon lighting is a way of depicting emotional distance with cold, but vibrating light. Polyester hair dually invokes a beastly primalism, as well as knowledge of the material falsehood of the object. Malleable materials, plastic in their modality, work in communicating the idea of movement. Juxtaposing oversaturated, candy hued, chemically derived dyes with hand-hewn work and simple materials creates a feel of the contemporary and the ancient, preternatural and the natural. Archetypal shapes and amorphous forms allow for my abstract artworks to relate to the physical body.
I make work that is both atavistic and indirect in its association to the existing world, creating intrigue and obfuscation in singular objects. Whatever materials I may utilize, there is an understanding the object's direct relation to the bodily form.