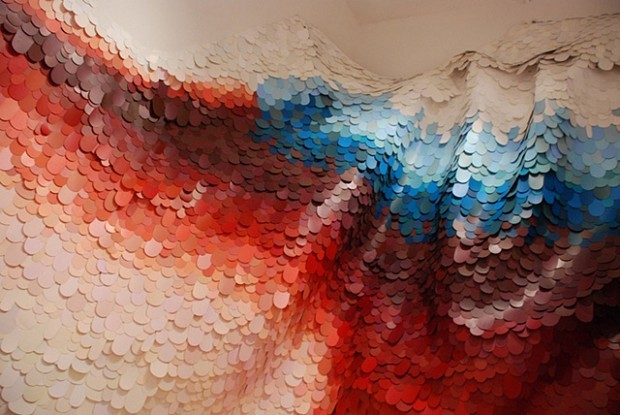 Noel Christine Morical (Spring 2011)
"Time Doesn't Go Anywhere, It Only Adds Up"
Assorted Paint Swatches, Clear Vinyl & Hot Glue
2011
Everything has potential. Everything has the capacity to exceed our preconceptions. By examining possibilities and our attachments, I seek to broaden our thinking about the concrete and the cerebral, and, in particular, to enhance the life of the temporary.
I continuously explore the realms of what is and what could be. What things mean and what they could represent. Noticing simple things and encountering them in specific ways attract me. What new life might be given by a new context?
The moments of everyday pass unconsciously, unexpectedly, unmonumentally. Seen as too available or just routine, they can be unnoticed.
But like minutes, days and years, these materials--and the experiences we all have with them--add up. They accumulate and compound; they grow and become more then they once were.