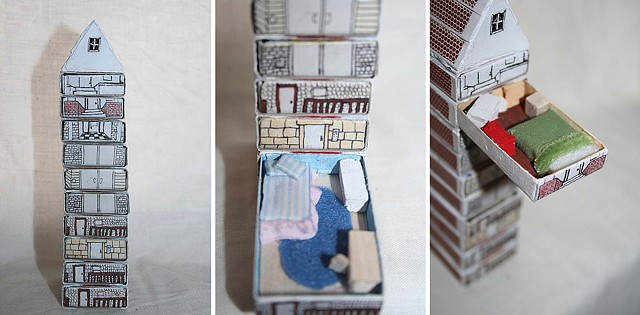 Amanda Gang (fall 2009 and Fall 2010)
"The Difference Between (nightlights)"
matchboxes, felt, watercolor, balsa wood
2009
I am interested in finding under-explored venues for art, imagining new spaces to showcase both my own work and that of others. Pushing the conceptual boundaries of the gallery and of street art, I create a positive visual impact on our environment and engage audiences that live outside the four walls of the traditional gallery. My work has grown into an exploration of location. Dictated largely by the environment in which the works are installed, the materials I employ range from print to performance, incorporating wood, fabric, clay, paper, sound, light and glitter. My recent body of work, the Discovery of See, privileges experience over viewer-ship and aims to reach unsuspecting audiences and participants.
This ongoing project calls for a collective awakening to the fact that we only live once. With this body of work I begin building a lifestyle for myself, leaving visual cues and guerilla-style exhibitions in my wake.