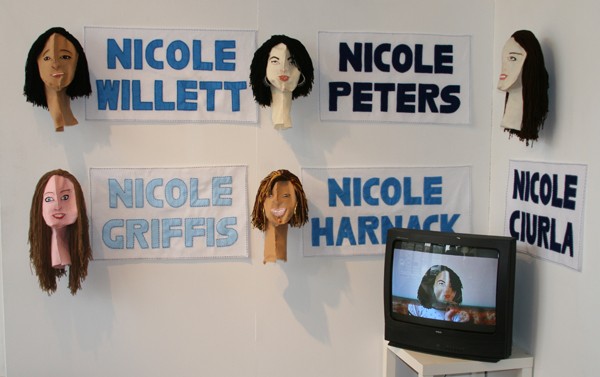 Cole Chickering (Spring 2009 and Spring 2010)
"Networked Nicoles"
Acrylic Felt, Acrylic Yarn, Embroidery Floss, Video
2009
Sifting through the digital landslide of internet information can be as quick as the slide of a scroll bar, or as slow as pulling a needle and thread. I happen to process this information both ways.
One can choose, as most do, to gaze at facebook photos, CNN.com news stories, and YouTube fragments and move on. I prefer to pick apart this information. By slowing down my consumption of data, I extract web debris out of the superficial confines of the virtual world. Staging performative interactions with handcrafted objects allows for simulated physical contact between me and my chosen internet muses. I can learn about a stranger's invented personae by carefully re-creating their facebook profile pictures with acrylic felt and yarn masks. I may be moved to stitch a full-scale, embroidered diagram of garments worn by the fleeing victims of today's web broadcast terrorist attack. Labor intensive, repetitive hand construction and embroidery help me to internalize this information, and allow me to tangibly manifest it in the material world. I need to remake or mimic in order to experience, to meditate and to absorb. Through specifically choreographed research and making processes, I embrace the illusion of digital connection. This is an attempt to understand what feeds the never ending flow of brilliantly multifaceted, but inescapably flat, internet data.
Essentially, I am just trying to dial into a connection. Just like everybody else.