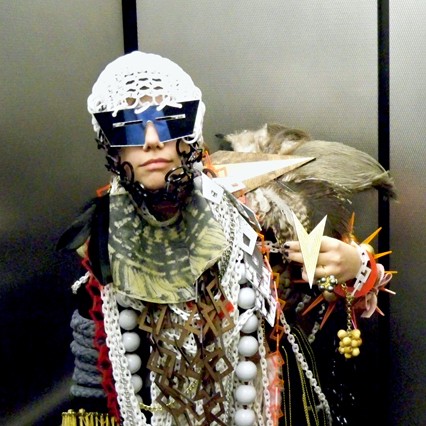 Danika Faiola (Spring 2009)
"Means of Protection"
Laser cut acrylic ( white, black, neon pink, red, mirror) latex, wood balls, wood, aluminum chain, base metal chain, plastic chain, dyed fabric, printed fabric, masonite, threaded rod, feathers, velour ribbon, swarovski crystals, czech glass crystals, swa
2009
Wearable… sort of.
My recent body of work is comprised of sculptures striving towards garment. These pieces take the form of absurdly burdensome articles that are worn in public as a performative act. I use a variety of materials, ranging from hobby products purchased at craft meccas, to more industry-based materials like acrylic, jewelry chain, and metal.
My interest in creating wearable art stemmed from the idea that a garment is a protective layer that is used to shield oneself from the elements. By conflating the protective nature of garment with that of architecture I started building spaces that could be worn either as shelter or armor. The problem always arises, however, that movement is restricted or the portability of the piece is compromised. This is because the piece is always cumbersome in order to fulfill its intended task. I find that failed utility is important for highlighting the humor and absurdity that lies within the lengths that people are willing to go to protect themselves from each other.
People use supplementary objects, like jewelry, as a form of protection. These objects enhance beauty, but at the same time, are used to divert attention from flaws. In my current project, I have constructed a backpack that supports a group of large fabric panels that will act as backdrops. In order to make this piece structurally sound I had to use a pack frame that is distributed to soldiers. This over-the-top accoutrement will direct all eyes in my direction; yet distract them from any blemishes in my appearance.