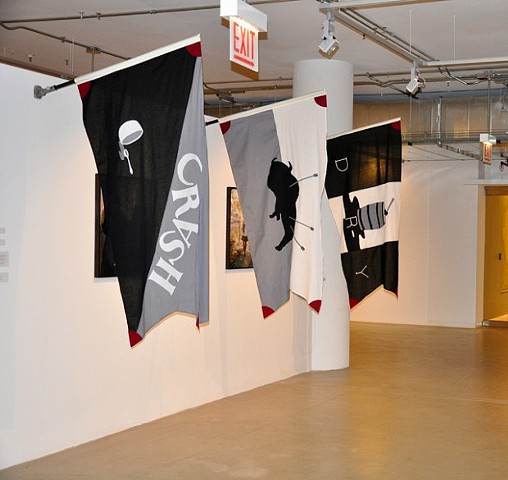 Jacob Melinger (Spring 2009)
"Prohibition, Native Americans, The Great Depression (From the series: Flags For A Baby Named America"
Cotton, wood and metal mount
2009
My work is a record of the world I know, synthesized and translated into tangible forms. Artists are historians, they documents sights, sounds and sensations. The present is a culmination of past events, and therefore both past and present must be considered in order to move forward towards the future. I draw inspirations for my work from a range of disciplines: fashion, fine art, and design, and work across media, employing textile, metal, or ink when appropriate, in order to perform my role as both the artist and historian.
For the series, Flags For A Baby Named America, I combine sewn flags and constructed mounts based on historical events and incidents that shaped the world I live in. In order to place emphasis on text and graphic imagery, the flags are constructed following a set of rules I invented to dictate my use of material, size, and color. Though my rules assure a visual consistency in the cotton flags, each has a unique mount that references the individual flag's historical context. For example, the flag titled Prohibition appears saturated, weighing down the flagpole and dripping on the ground below. The simple, timeless materials used - cotton, wood, and metal - are dictated by my need to graphically and tangibly recount history. In doing so, I create in the present, drawing from the past, for those in the future.