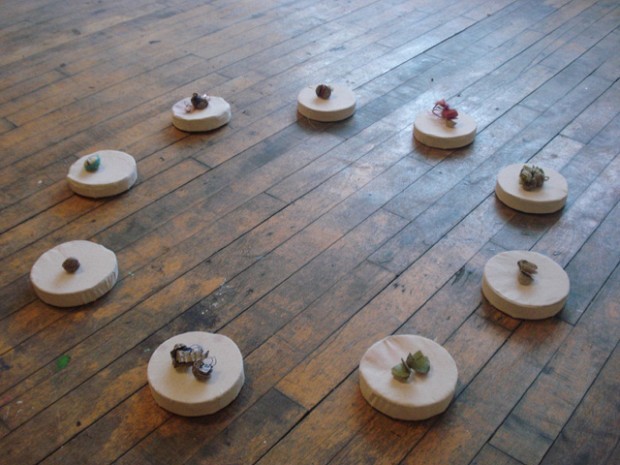 Andrea Mattson (Fall 2007)
"The ending is not so important, The destination is thus forgotten."
Cast abaca and vegetable paper, handmade paper, thread, ribbon, yarn, muslin.
2007
Art is a by-product of my life. I create compulsively and continuously. I work quietly and playfully, thus the objects take on such qualities.
The objects that I make take the form of interactive artist's books. I allow the materials that I use to facilitate the structure and demeanor of the book. The materials that I use include: handmade paper, old clothing and scraps, wool, teabags, string, compost, plastic bags, and plants. The books that evolve from these are small, intimate, personal, delicate, and decaying structures. They are extremely tactile; I want them to be touched and experienced through other senses besides sight.
The interaction that occurs between the viewer and the book is just as important, if not more so, than the object itself. The book creates a space for this experience by allowing the viewer (if willing) to slow down and investigate the small, fragile object. These books are structured so as to create delight and a small moment of relief from daily pressures. I hope significance will surface through the experience, through an interaction, conversation, memory, or thought.