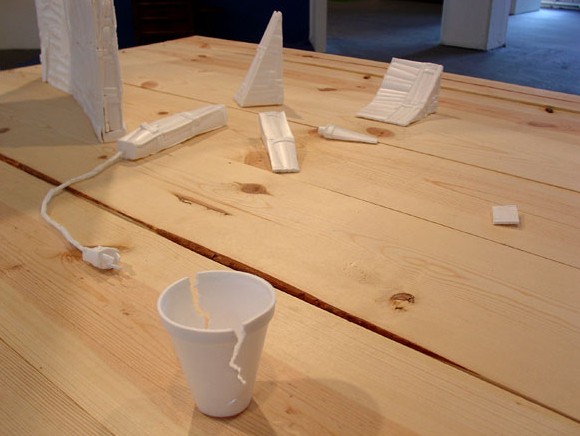 Cameron Crawford (Spring and Fall 2005, Spring 2006)
"Stop. Elegy. Stop."
Styrofoam cups, wood, electric fan
2019
I make sculptures out of commonplace things- cups, newspaper, electric fans, and poison. The sculptures I make depict commonplace things- boxes, doorstops, chairs, and ointment. Material from A to build B.
The things that I make material from, I kill them but they don't move on. Cups are stuck as cups, even when they make a door. Nothing can transcend. Newspaper can be painted white and left to disintegrate, but it is still a very temporary vehicle for information. The poison stays poisonous.
Bodies come to these objects and sculptures alike, and leave them. The sculptures don't offer transformation, and neither do the bodies or the objects. Nothing transforms and, eventually, everything looks like only a body, frustrated in transforming.