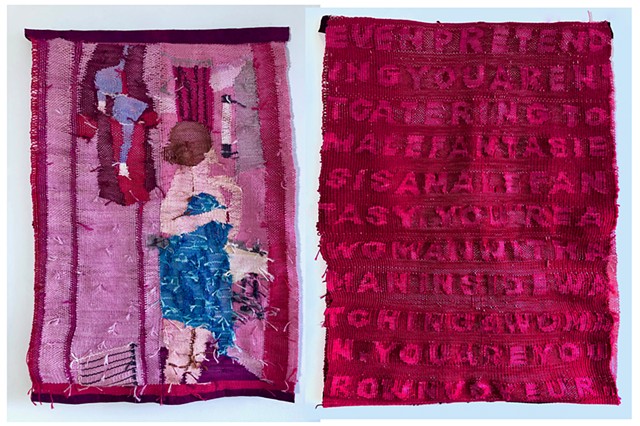 Hannah Cofer (Spring 2020)
"Woman at Her Toilette."
Silk thread and abbreviated quote from Margaret Atwood's The Robber Bride, "Even pretending you aren't catering to male fantasies is a male fantasy. You are a woman with a man inside watching a woman. You are your own voyeur." 20" x 30"
2019
Women are born into a world in which we are portrayed in extremely damaging ways. We internalize these images and ideas, and they infiltrate our conception of ourselves. What does it mean for women today to be surrounded by these images? How do they affect the way we see ourselves? With my work, I ask questions about the psychology of femininity, and create conversations between this history of image production and the female internalization of the male gaze. I then pull this conversation into the realm of fiber art processes, using techniques such as embroidery and tapestry weaving to localize this topic in the material specificity of women's work and craft histories.
My work also discusses visibility, both of these larger political issues in society and the smaller personal hidden realities that accompany the female experience. Using methods of covering and overlaying, I create layered surfaces with hidden textual elements that both invite and require the viewer to dig deeper for greater understanding.
With my work, I am also seeking to better understand my own family and upbringing in relationship to gender. I explore the intricacies of female relationships, and I make work that deals with women's issues not strictly in relation to the patriarchy. I am not interested in replicating the otherness that women experience, and instead want to explore the ways women relate to each other and the ways we communicate, learn, grow, and experience life.