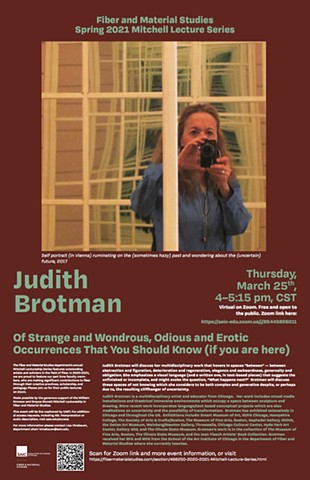 Of Strange and Wondrous, Odious and Erotic Occurrences That You Should Know (if you are here)
Judith Brotman
March 25, 2021 (4 - 5:15pm, CST)
Click this link to join on zoom
Free and open to the public.
This event will be live captioned by CART. For additional access requests, including ASL interpretation or audio description, visit saic.edu/access.
Judith Brotman will discuss her multidisciplinary work that hovers in spaces "between"—between abstraction and figuration, deterioration and regeneration, elegance and awkwardness, generosity and obligation. She emphasizes a visual language (and a written one, in text-based pieces) that suggests the unfinished or incomplete, and might evoke the question, "What happens next?" Brotman will discuss these spaces of not knowing which she considers to be both complex and generative despite, or perhaps due to, the resulting cliffhanger of uncertainty.
[Image description: Promotional poster with green and white text on a rust background. There is a photograph of the artist wearing a blue blouse holding up a camera that blocks her mouth. The grid of a window frame is visible, revealing that the image is a reflection.]

Judith Brotman is a multidisciplinary artist and educator from Chicago. Her work includes mixed media installations and theatrical immersive environments which occupy a space between sculpture and drawing. More recent work incorporates language/text based conceptual projects which are also meditations on uncertainty and the possibility of transformation. Brotman has exhibited extensively in Chicago and throughout the US. Exhibitions include: Smart Museum of Art, SOFA Chicago, Hampshire College, The Society of Arts & Crafts/Boston, The Museum of Fine Arts, Boston, Asphodel Gallery, INOVA, the DeVos Art Museum, Weinberg/Newton Gallery, Threewalls, Chicago Cultural Center, Hyde Park Art Center, Gallery 400, and The Illinois State Museum. Brotman's work is in the collection of The Museum of Fine Arts, Boston, The Illinois State Museum, and the Joan Flasch Artists' Book Collection. Brotman received her BFA and MFA from the School of the Art Institute of Chicago in the Department of Fiber and Material Studies where she currently teaches.