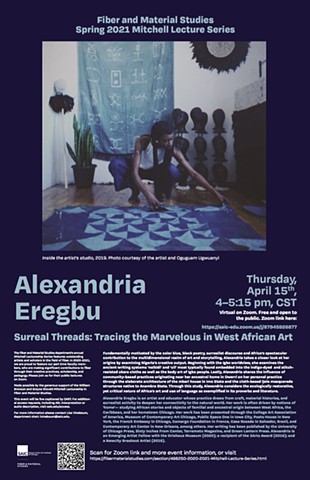 Surrealist Threads: Tracing the Marvelous in West African Art
Alexandria Eregbu
April 15, 2021 (4 - 5:15pm, CST)
Click this link to join on zoom
Free and open to the public.
This event will be live captioned by CART. For additional access requests, including ASL interpretation or audio description, visit saic.edu/access.
Fundamentally motivated by the color blue, black poetry, surrealist discourse and Africa's spectacular contribution to the multidimensional realm of art and storytelling, Alexandria takes a closer look at her origins by examining Nigeria's creative output. Beginning with the Igbo worldview, she examines the ancient writing systems 'nsibidi' and 'uli' most typically found embedded into the indigo-dyed and stitch-resisted ukara cloths as well as the body art of Igbo people. Lastly, Alexandria shares the influence of community based practices originating near her ancestral home in Owerri on her personal practice through the elaborate architecture of the mbari house in Imo State and the cloth-based ijele masquerade structures native to Anambra State. Through this study, Alexandria considers the ecologically restorative, yet critical nature of Africa's art and use of language as exemplified in its proverbs and literature.
[Image description: Promotional poster with sky blue and white text on a royal blue background. There is an image of the artist crouching over an indigo fabric work with geometric patterns on the ground. On the wall behind her are other artworks, a plant and a rack of black mannequin heads.]
As an artist, Alexandria draws from history, experience, and her own imagination to deepen her connectivity to the natural world. Her practice is often driven by stories, whether lived or dreamt, and surrealist activity spanning from West Africa, the Caribbean, to her home in Chicago. Under the guidance of writing and research, Alexandria's creative process alchemizes drawing, material studies, performance, fiber art, as a means to honor, communicate, awaken, and further explore that which she considers sacred or worthy of remembering. Her work has been presented at the College Art Association of America, Museum of Contemporary Art Chicago, Public Space One in Iowa City, Poets House in New York, the Camargo Foundation in Cassis, France, Casa Rosada in Salvador, Brazil, and Contemporary Art Center in New Orleans, among others. Her writing has been published by the University of Chicago Press, Sixty Inches From Center, Terremoto Magazine, and Green Lantern Press.
Alexandria is an Emerging Artist Fellow with the Driehaus Museum (2020); a recipient of the 3Arts Award (2016); and Newcity Breakout Artist (2015). She is also a current lecturer at the School of the Art Institute of Chicago in the Department of Fiber & Material Studies
www.alexandriaeregbu.com
@alexandriaeregbu
Twitter: @findingijeoma