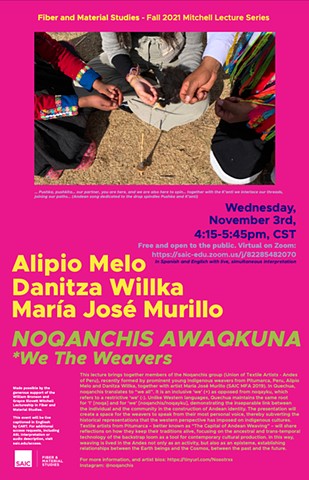 ALIPIO MELO, DANITZA WILLKA, and MARÍA JOSÉ MURILLO:
Noqanchis Awaquna (We The Weavers / Nosotrxs lxs tejedorxs)
Wednesday, November 3rd, 4:15-5:45pm CST
Free and open to the public. Virtual on Zoom.
This event will take place in English and Spanish, with live, simultaneous interpretation in both languages.
Miércoles 3 de noviembre, 4pm a 5:15 pm, CST
Gratis y abierto al público. Virtual en Zoom. Únase en Zoom: saic-edu.zoom.us/j/82285482070
Presentado en español y en inglés con traducción simultanea en vivo.
Miércoles kinsa p'unchaw noviembre killa, Tawa horasmanta pishqa horas chunka pishqa minutoskama
Tukuy runapaq. "Virtual" nisqa, Zoompi. Huñunakuy "ZOOMpi": saic-edu.zoom.us/j/82285482070
Rimanakusunchis "español" simipi, "inglés" simipi. Kasqan ratu T'ikraqkunapas kanqan.

This lecture brings together members of the Noqanchis group (Union of Textile Artists - Andes of Peru), recently formed by prominent young Indigenous weavers from Pitumarca, Peru, Alipio Melo and Danitza Willka, together with artist María José Murillo (SAIC MFA 2019). In Quechua, noqanchis translates to "we all". It is an inclusive 'we' (+) as opposed from noqayku, which refers to a restrictive 'we' (-). Unlike Western languages, Quechua maintains the same root for 'I' [noqa] and for 'we' [noqanchis/noqayku], demonstrating the inseparable link between the individual and the community in the construction of Andean identity. The presentation will create a space for the weavers to speak from their most personal voice, thereby subverting the historical representations that the western perspective has imposed on indigenous cultures. Textile artists from Pitumarca – better known as "The Capital of Andean Weaving" – will share reflections on how they keep their traditions alive, focusing on the ancestral and trans-temporal technology of the backstrap loom as a tool for contemporary cultural production. In this way, weaving is lived in the Andes not only as an activity, but also as an episteme, establishing relationships between the Earth beings and the Cosmos, between the past and the future.
@noqanchis

NOQANCHIS AWAQKUNA es una conferencia que reúne a miembrxs del grupo Noqanchis (Unión de Artistas Textiles - Andes del Perú) recientemente creado por Alipio Melo y Danitza Willka –destacadxs tejedorxs de Pitumarca– junto a la ex alumna de SAIC, María José Murillo. En quechua noqanchis se traduce a "nosotros todos". Es un 'nosotros' inclusivo(+) que se distingue de noqayku, el cual alude a un 'nosotros' restrictivo(-). A diferencia de las lenguas occidentales, el quechua mantiene la misma raíz para el 'yo'[noqa] y para el 'nosotros' [noqanchis/noqayku], dejando ver el indesligable vínculo que existe entre el ser individual y su comunidad en la construcción de la identidad Andina. Crear un espacio para que lxs tejedorxs hablen desde su voz más personal es lo que esencialmente pretende esta conferencia, para así lograr subvertir la histórica representación que la perspectiva occidental ha construido sobre las culturas indígenas desde afuera. Lxs artistas tejedorxs de Pitumarca, más conocida como "La capital del Tejido Andino", compartirán reflexiones sobre cómo mantienen vivas sus tradiciones textiles, centrándose en la tecnología ancestral –y transtemporal– del telar de cintura como herramienta de producción cultural contemporánea. De esta manera el tejido se vive en los Andes no sólo como una actividad sino además como una episteme (forma de ver el mundo desde los conocimientos), estableciendo relaciones entre lxs seres de la Tierra y el Cosmos; entre el pasado y el futuro.

Kay rimanakuy "Noqanchis Awaqkuna", huñun runakunata (Unión de Artistas Textiles de los Andes del Perú), Noqanchis awaqkunaqa chayraqmi paqarimuran, kamarirqankun reqsisqa munasqa awaqkuna "Pitumarcamanta"– Alipio Melo, Danitza Willka, María José Murillopas, paymi unayña SAICpi yacharan. Ima niytan munan runasimipi noqanchis? Noqanchisqa lluytan, tukuytan mink'arikun: hatunta, huch'uyta, kuraqta, sipasta, llaqtayoqta, mana llaqtayoqta.Chaymi Noqanchista "inclusivo"(+) nispa sutichanchis. Kantaqmi noqayku, noqaykuqa, manan lluytachu, tukuytachu mink'an. Noqaykutan sutichanchis "restrictivo" (-) nispa. Runasimipiqa: NOQA (yo), NOQAnchis (nosotros +), NOQAyku (nosotros -) Ankhayna kaspan qhawarichiwanchis huk runaq kawsaynin patan ruwakun comunidadpa andino KAYNIN, andina KAWSAYNIN. Occidental simikunapiqa manan kikinchu. Kay rimanakuypin kikin awaqkunaq rimayninta, kunkanta, yuyasqankuta kaypipas, karu llaqtapipas uyarisunchis, aknata ruwaspan t'ikrayta munayku ñawpaq imaynatan yuyaran cultura occidental kay indígenas culturamanta. Artista awaqkunan reqsichiwasunchis, willawasunchis imaynatan kunankama kawsachishanku: Paqucha Ch'uyayta, willma rutuyta, t'isayta, pushkayta, kururayta, marijayta, t'aqsayta, tiñiyta, unuchallawan t'aqsayta, kururayta, k'antiyta, phariyta, kururayta, tupachiyta, allwiyta, khatayta, illawayta, ch'eqoripayta, awayta, t'ipayta, chhukayta, awapayta. Aswantan rimanqaku ñawpa yachay "telar cinturamanta", cintura telarwan awaymi kunankama kashallanpuni . kay cintura telarmi paykunaq chaki-makinku, herramientanku. Anchhaynatan kunankama andino awayqa kawsashanpuni, purishanpuni, mana ruway hinallachu, aswanmi awayta yachaspaqa, tukuy teqsimuyuta, tukuy "noqanchista" yachayninchismantapacha qhawachiwanchis, rimanakuytan, munanakuytan paqarichinchis. Pachamamapi tiyaqpura, ñawpa kawsayta tinkuchishanchis hamuq kawsaywan.
Made possible by the generous support of the William Bronson and Grayce Slovett Mitchell Lectureship in Fiber and Material Studies. All lectures will be live captioned by CART. For additional access requests, including ASL interpretation or audio description, visit saic.edu/access.
Hecho posible gracias al generoso apoyo de William Bronson and Grayce Slovett Mitchell Lectureship en Fiber and Material Studies. Habrá subtítulos CART en directo para todas las presentaciones. Para solicitar acceso adicional, incluyendo interpretación ASL o descripción de audio, visite saic.edu/access.
Tukuy rimanakuykuna manan qolqepaqchu, gratisllan tukuy llapa runapaq. "Subtitulos CART", nisqa kanqa tukuy rimanakuypaq. Haykumuyta munaspaqa, t'ikrasqata uyariyta munaspaqa haykuy saic.edu/access.
[Image description: Outdoors in the sun, three people sit cross-legged in a circle on the ground. Each holds a strand of the yarn being spun together onto a drop spindle in the center.]
English:
… Pushka, pushkita… our partner, you are here, and we are also here to spin… together with the K'anti we interlace our threads, joining our paths… (Andean song dedicated to the drop spindles Pushka and K'anti)
Español:
…Pushka, pushkita… compañera, tú estás aquí y nosotrxs también estamos aquí para hilar… juntxs entrelazando hilos, uniendo nuestros caminos… (Canción andina dedicada a la Pushka y al K'anti)
Quechua:
…Pushka, pushkita… pushkaqmasiy, qanmi noqaykuwan kushka kashanki pushkarinanchispaq, kushka, q'aytukunata tupachispa kawsay ñanninchista huñushanchis… (Andesmanta taki pushkapaq, k'antipaq)


Biographies
Alipio Melo (Cusco, 1995) is a young master weaver from the community of Pampa Chiri in the district of Pitumarca (Peru). At only seven years old, he paved the way as the only male person in his district determined to pursue Andean weaving. Years later, he joined the Young Weavers Group of the Munay Ticllla Association of Pitumarca, one of the first associations to form the Centro de Textiles de Cusco (CTTC). The unique passion with which Alipio lives and gives continuity to the millenary art from which he descends - despite having felt misunderstood at the beginning - has led him to become the best young weaver in all the Cusco region. He has been recognized with important national textile awards, and in 2019 he was invited to Brussels (Belgium) to teach college students about his textile art. Alipio is proud to work actively through the CTTC in the recovery of ancestral knowledge and techniques. When he is not weaving, he takes care of his alpacas in the highlands along with his mother and sister. Alipio is very proud of his paqochas [alpacas] because he has them in all colors and they become the raw material for his weavings.@alepiomelo
Willka in Quechua translates to sacred, granddaughter and tree. Danitza Willka (Cusco, 2001) is an outstanding young weaver from the community of Pampa Chiri, in Pitumarca (Peru). She inherited a passion for weaving from her mother Ana Espinoza, considered the best weaver in the Cusco region, and from her grandmother Epifania Rojo. Danitza was born surrounded by fibers, pushkas (drop spindles), threads and fine weavings created by the hands of wise women with a deep love and commitment to revitalize the art of their ancestors. Since she was a child, she has been part of the Group of Young Weavers of the Munay Ticlla Association of Pitumarca, a partner to the Centro de Textiles de Cusco (CTTC). Currently, Danitza is pursuing professional studies in Food Industries, as she has not found a career in Peru suitable for her vocation as a weaver. However, this textile passion has never abandoned her and continues to be a living force, an inner calling that motivates her day-to-day life. Even though she is studying outside her community, for Danitza the most important thing is to return; to return to her homeland to visit her parents and reconnect with the essence of her identity as a weaver.@danitzahuillcaespinoza
María José Murillo (Arequipa, 1989) is a Peruvian textile artist, who still considers she has a long way to go to have the honor of calling herself a weaver. At the age of sixteen she migrated to the capital Lima to study painting, where she was limited to covering the surface of a textile with pigment under a Eurocentric perspective of her culture through academic art. That emptiness would lead her to seek new horizons, feeling the echo of the voice of her ancestors from her unexpected encounter with weaving, paradoxically, while studying abroad (MFA 2019, SAIC Fiber and Material Studies). There, María José began to conceive her artistic practice as a way of reclaiming her own pre-Hispanic cultural heritage that was absent in the Peruvian artistic education she received. She took this finding as a commitment to return to her country, moving to Cusco in 2019 to be in charge of the Education Department of the CTTC. This experience – together with the study of Andean Weaving and the Quechua language – would mark the real beginning of her knowledge, identification, and deep love for the Andean universe. Since then, María José seeks to open spaces to integrate, through textile art, this millenary identity in Peruvian education. @maria.jose.murillo

Biografías
Alipio Melo (Cusco, 1995) es un joven maestro tejedor de la comunidad de Pampa Chiri del distrito de Pitumarca. Con tan sólo siete años, abrió un camino precursor como el único varón de su distrito en inclinarse por el aprendizaje del tejido Andino. Años más tarde se unió al grupo de niñxs tejedorxs de la Asociación Munay Ticllla de Pitumarca, una de las primeras asociaciones en conformar el Centro de Textiles Tradicionales del Cusco (CTTC). La singular pasión con la que Alipio vive y da continuidad al arte milenario del que proviene –a pesar de haberse sentido incomprendido en un inicio– lo ha llevado a convertirse en el mejor tejedor joven de la región Cusco. Ha sido reconocido con importantes premios textiles nacionales y en 2019 fue invitado a Bruselas – Bélgica para enseñar a universitarios sobre su arte textil. Alipio se enorgullece de trabajar activamente a través del CTTC en la recuperación de técnicas y conocimientos ancestrales. Cuando no está tejiendo se dedica al cuidado de sus alpacas en tierras altas junto a su madre y hermana. Alipio se siente muy orgulloso de sus paqochas [alpacas], pues las tiene de todos los colores y son la materia prima de sus tejidos. @alepiomelo
Willka en quechua se traduce a sagrado, nieta y árbol. Danitza Willka (Cusco, 2001) es una destacada joven tejedora de la comunidad de Pampa Chiri – Pitumarca, quien ha heredado la pasión por el tejido de su madre Ana Espinoza, considerada la mejor tejedora de la región Cusco, y de su abuela Epifania Rojo. Nació rodeada de fibras, pushkas, hilos y finos tejidos creados por las manos de sabias mujeres con un profundo amor y compromiso por revitalizar el arte de sus ancestrxs. Desde pequeña integra el grupo de niñxs y jóvenes tejedorxs de la Asociación Munay Ticlla del CTTC. Actualmente, Danitza sigue estudios profesionales en la carrera de Industrias Alimentarias, ya que no halló en el Perú una carrera afín a su vocación de tejedora. Sin embargo, esta pasión textil nunca la abandonó y sigue siendo una fuerza viva, un llamado interno que la motiva día a día. A pesar de estar estudiando fuera de su comunidad, para Danitza lo mas importante es volver; volver a su tierra para visitar a sus padres y reencontrase con la esencia de su identidad como tejedora. @danitzahuillcaespinoza
María José Murillo (Arequipa, 1989) es una artista textil peruana, que aún considera le falta camino por recorrer para tener el honor de autodenominarse Tejedora. A los dieciséis años migró a la capital para estudiar Pintura, donde se vio limitada a cubrir con pigmento la superficie de un textil bajo una perspectiva eurocéntrica de su cultura a través del arte académico. Ese gran vacío la llevaría a buscar nuevos horizontes, sintiendo el eco de la voz de sus ancestrxs inesperadamente desde la tejeduría. Paradójicamente, su primer acercamiento al lenguaje ancestral del Tejido Andino se dio estudiando en el extranjero (MFA 2019, Fiber & Material Studies). Allí María José empezó a concebir su práctica artística como un reclamo por la herencia cultural prehispánica que estuvo ausente durante su formación académica en el Perú. Fue así que decidió tomar este hallazgo como un compromiso para volver a su país, mudándose al Cusco en el 2019 para estar a cargo del Departamento de Educación del CTTC; experiencia que –junto al aprendizaje del quechua– marcarían el real inicio de su conocimiento, identificación y amor profundo por el universo Andino. Desde entonces, María José busca abrir espacios para integrar esta identidad milenaria a través de las artes textiles en la educación peruana. @maria.jose.murillo

Kawsay
Alipio Melo (Cusco, 1995) wayna away yachaq, yachachiq Pampa Chiri comunidadmanta (Pitumarca). Qanchis watallayoq kashaspa payqa away yachayta munasharanña, manan Pitumarcapi hoq qhari karanchu away yachay munaq, Alipiolla, sapallan. Pishi-pishimanta haykuran "niñxs tejedorxs Asociación Munay Ticlla- Pitumarca", kay asociacionmi ñawpaqta achhuykuran (CTTCman). Kunami Alipio sonqon uhumantapacha kusikuywan kawsan, away yachayta mana chinkachispa aswanmi teqsimuyuntinman reqsichiyta munan, hinaña ñawpaq payta mana ancha awaqta hina chanincharankuchu chaypas. Kunanqa paymi aswan reqsisqa, munasqa wayna awaq Qosqo llaqtapi. 2019 watapin mink'arisqa kasharan Bruselas-Bélgica llaqtaman, chaypin universitariokunaman awaymanta yachachiran. Qosqo llaqtapas, reqsikuyninta Alipioman chayachiranmi. Alipioqa, CTTCpi ancha reqsisqan, chaypi ñawpa awaykunata, pallaykunata mashkarishan, t'aqwirishan waqaychashantaq mana chinkananpaq. Mana awan chayqa, alpacankunatan michin orqo patakunapi mamanwan, pananwan kushka. Alipioqa, yana, yuraq, ch'umpi paqochankunawanmi, ancha kusisqa kashan, kay paqochakunan willmata qon awananpaq. @alepiomelo
WILLKA, español simipiqa niyta munan: "Sagrado". Hinallataq niyta munan: "Nieta/o". Hinallataq niyta munan: "Arbol". Danitza Willkaqa (Cusco, 2001) maman Ana Espinozamanta, awichan Epifania Rojomantan awayta yacharan, Ana maman, Qosqo llaqtantinpi aswan allin awaq hina reqsisqa. Danitzan, willmaq, q'aytuq, pushkaq, sumaq awasqa llikllakunaq chawpinpi kay pachaman paqarimurqan. Chay sumaq pallaysapa llikllakunatan Ana mama ñawpa tayta-mamata, ñawpa machu-payata yuyarispa tukuy sonqonwan, llamp'u makinwan awaran chay yachaykuna mana chinkananpaq. Hinan, kunanqa Danitzañataq awaykushan. Danitzapas erqemantapachan haykuran "niñxs tejedorxs Asociación Munay Ticlla de CTTC Pitumarca". Kunan actual Danitzaqa yachaywasiman rishan "Industrias Alimentarias" nisqata yachashan, manayá tukuy Perú suyupi kanchu Yachaywasi awaymanta yachachiq. Ichaqa kay away yachasqantaqa manapunin ni hayk'aqpas saqeranchu, kunankaman tukuy erqe-sipas awaqkunata kallpachashanpuni, sonqon uhumantapachan sapa illarimuyta, sapa p'unchaw away yachaynin t'ikarimushan. Danitzaq yachay wasinqa manan kikin llaqtanpichu kashan, ichaqa, paypaqqa aswan chanin importantin llaqtanman kutiy, tayta -maman watukunanpaq, aswantaqa awayninwan, pushkayninwan tinkunanpaq. @danitzahuillcaespinoza
María José Murillo (Arequipa, 1989) sipas artistas away yachay, mashkaq, Perú llaqtapin paqariran. Paymi niwanchis: "ashkhataraqmi purinay away yachaqmi kani ninaypaqqa." Chunka soqta watayoqmi Lima llaqtaman lloqsimuran llump'íymanta yachananpaq. Limapi yachashaspan mana kusisqachu kasharan, payqa llump'íyllata yachasharan "eurocéntrica" nisqa culturallata Perú yachaywasipi yuyaranku. Paypa sonqonmi llakisqa, ch'usaq kasharan, chaymi mosoq kawsaykunata mashkayta qallariran, ñawpa ayllunkunaq kunkanta sonqon uhupi awaymanta rimaqta uyarisharan. Extranjero llaqtapi (MFA 2019 watapi, Fiber y Material Studiespi) yachashaqtinmi, qonqaylla sonqon uhupi uyarirqan Andino Awaymanta. Chay p'unchawkunamantapachan María Joseqa, "ñawpa cultura pre hispánica herencia" nisqata mat'ipayayta qallarirqan. Ichaqa, Perú llaqtapi awaymanta yachashaqtinqa, manan pushkay, away paywan kushkachu kasharan. Manan. Chayraq pishi-pishimanta chanin awaymanta yachayta tariran. Kay tarisqanraykun payqa huk "compromiso" nisqata ruwaran llaqtanman kutimpunanpaq, Qosqoman 2019 watapi, astakamuran, llank'ayta qallariran CTTCpi, runasimitapas yachayta qallarillarqantaq. Chay experienciakunan paypaq ancha chanin karan. sonqonpi chayraq t'ikariyta qallariran Andino llaqtaq awaymanta yachayninkuna. Chaymantapachan payqa, ñawpa yachaykunawan kushka mashkashan, kichashan llank'anakunata awaymanta kay yachayninchiskuna mana chinkananpaq kushkachayta munan peruana educacionman.@maria.jose.murillo